Since 1993, EPAM Systems, Inc. (EPAM) has leveraged its advanced software engineering heritage to become the foremost global digital transformation services provider – leading the industry in digital and physical product development and digital platform engineering services. Through its innovative strategy; integrated advisory, consulting, and design capabilities; and unique 'Engineering DNA' EPAM's globally deployed hybrid teams help make the future real for clients and communities around the world by powering better enterprise, education and health platforms that connect people, optimize experiences, and improve people's lives. EPAM's global multi-disciplinary teams serve customers in more than 50 countries across six continents.
EPAM is known for building complex bespoke engineering solutions for global clients delivering innovative solutions to some incredibly challenging problems. The Company's Open Source Program Office (OSPO) focuses on four verticals; community, products, consultancy and tooling.
As co-lead of the OSPO, Chris leads the Community and Product verticals. Within the community side, he focuses on increasing engagement and creating a passion for open source and its applications. Within products, he oversees a suite of tools that EPAM uses internally and offers externally to measure open source contributions and truly quantify the business value attainable through sustained open source engagement.
How does sustainability resonate with EPAM?
EPAM has a long history of engaging and supporting social initiatives, recently we've increased our commitment towards focusing more attention on our sustainability journey too. Sustainability and related initiatives play a much more prominent role in our engagements today than perhaps historically and we see sustainability not just as the right thing for business but also a as key innovation angle for us. Our clients are increasingly looking to us to deliver bespoke engineering and consultancy solutions that consider environmental and societal considerations; sustainability has become essential to that conversation and is no longer a "nice to have" but instead is a "must have". For me, one of the most exciting parts of this is figuring out how to transfer sustainability approaches and ways of working into our client offerings and delivery.
Of course, as you would expect in an organization of our scale, we also have all of the internal processes around sustainable ways of working, recycling schemes, social and educational programs as well as responsible device management and so. Furthermore, we recognize that the offsetting of carbon is not a very productive practice in the long term and have since made commitments to no longer pursue offsetting objectives and, instead, look at carbon reduction.
How do your efforts translate into solutions for your customers?
Our engineering excellence courses teach our engineers the very best of coding and development standards to continuously introduce and adopt innovative approaches, including Agile and DevOps on their engagements. Delivering the highest quality code with best-in-class methodologies is the most efficient way to support our clients and this most certainly has to include sustainability considerations.
Supporting our clients is a core part of the whole engineering mindset, and it's about ensuring that we consider challenges such as the negative impact of carbon emissions and do our utmost to reduce them. Having sensible conversations with our clients, such as supporting them to understand the reasons why all their solutions don't require 100% uptime when jobs are only running for 2 hours a day. Leveraging our skilled architects to help guide a client in the right direction from an ESG perspective around cloud usage and its possible impacts alongside accessibility consulting is also something we're keen to continue doing.
You're doing everything right; why join the GSF?
As someone who lives and breathes the open source world as well as sitting on the Open UK leadership I was fortunate enough to attend COP26 a little over a year ago. At this global meeting of world leaders and decision-makers, we spoke about the role of open source in a sustainable future and saw so many synergies between EPAM's work and the need to build a better world. At an elementary level, e.g., the idea of just reusing code and its impact in terms of not needing additional energy with all its implied carbon emissions was something that immediately aligned with the open source methodology.
Reusing code, both open and inner source, has significant business value. One of these is that through such an action you're able to help your organization work towards sustainability goals as, through reusing that code, you can confidently say that you're not expending the same amount of energy to write something entirely new. It's part of why EPAM is so committed to building an open source community and encouraging an open source culture where such activity is encouraged.
EPAM's motivation was to join the Green Software Foundation, not just to show our commitment to such sustainable initiatives publicly but also to start contributing back to GSF initiatives like the open source and patterns working groups. Many of my EPAM colleagues have a real passion for the environment, sustainability and ESG and are driving to get involved personally in these efforts, which in turn drives the company to also get involved – it's a part of
EPAM's culture. An internal hackathon, which kicked off in April 2023, will steer us in the direction of discovering where we might be able to contribute most effectively to the Foundation's objectives.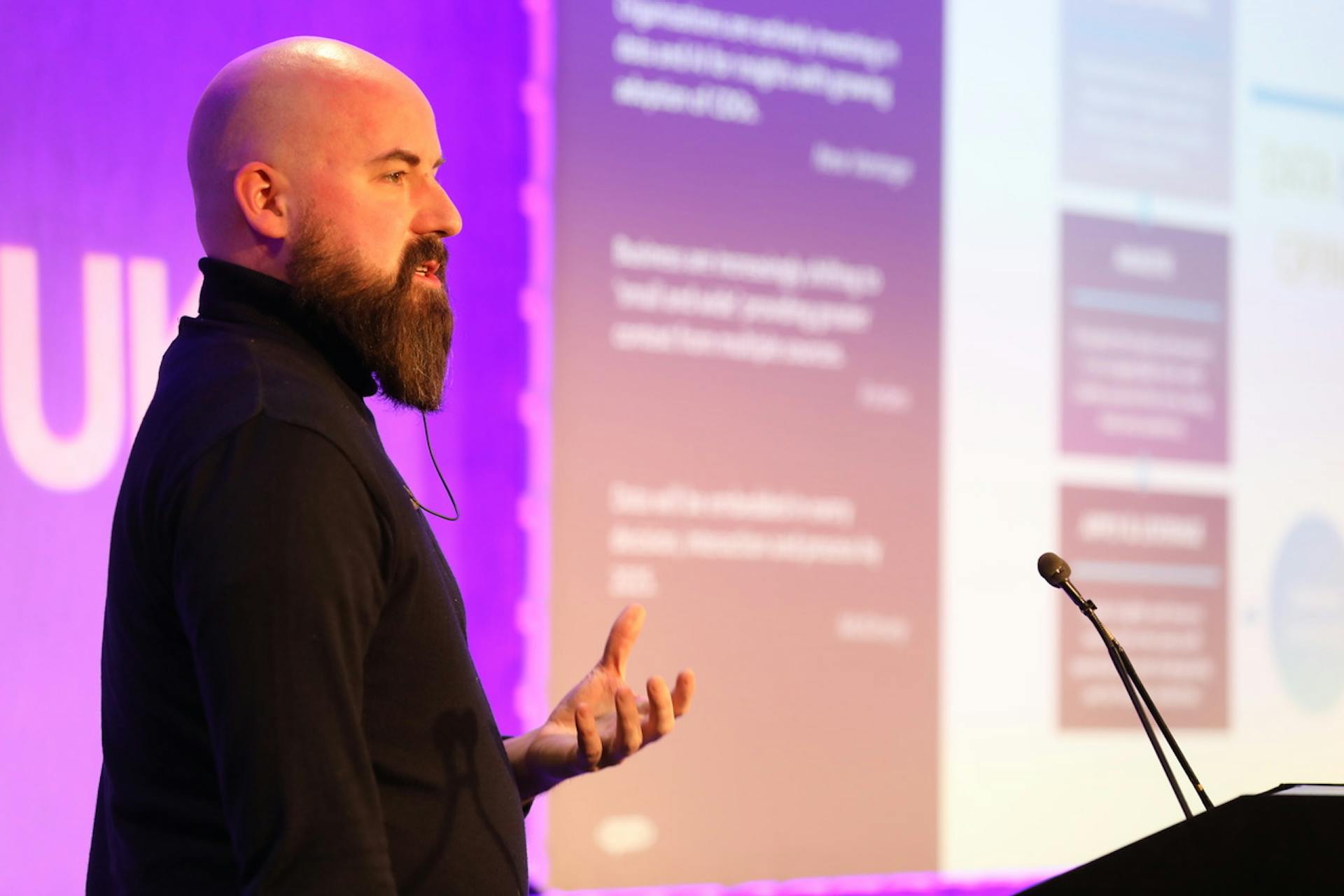 Is Open-Source changing the way we do business?
Open source is the opposite of what many enterprises have been used to for decades when they would ensure to protect their IP and keep all their proprietary solutions extremely tight. Today, we're living in a world where we recognize the importance of collaboration over that kind of gatekeeping. We see a particularly pronounced change in some of the more conservative or risk-averse industries, e.g., financial services, healthcare and heavily regulated industries, where 20 years ago, they would never have even dreamed of publishing their ways of working. Business leaders are now learning through innovations such as open banking, the blockchain and even electric vehicles, that if we collaborate at scale, e.g., through open source, we can push that innovation curve quicker and faster.
How does EPAM see green software?
We don't necessarily see green software as a silo, or something to differentiate, but as something that should be considered when we engineer any solution. We recognize that carbon-aware software is an essential part of the global environmental challenge and consequently, our approach is to apply the green software principles whenever possible and start to embed this way of thinking into our internal and client projects. We perceive green software as a contributor towards a world that we all must be moving towards for the future.
How can we affect change?
Education is at the core of many of the environmental challenges that the world is facing. There's still a culture of "Oh, that's not for me" or "This isn't relevant to the world that I'm living in." So, when we talk about the environment, ESG targets, and sustainability, it's about making people wake up and realize that it is indeed relevant to them. In an organization the scale of EPAM, the challenge is getting its nearly 60,000 team members to understand that greening software is something we must be working towards, and we've already started with some great steps in this direction.
Education is the hurdle we've got to overcome in order to convince people. So, whether you're an engineer, a product owner, a delivery manager, an account manager, or even a VP, sustainability has to be built into your ways of working, much like we've done with topics such as diversity and inclusion over the last few years.
What's next for EPAM in terms of sustainability and green software?
Internally we have an ESG 'Value Creation Community' that ties together people across geographies, functions and disciplines to collaborate on internal initiatives, external engagements, education and thought leadership. We have set several goals for 2023. The first was to continue our commitment to the Science Based Targets initiative, which focuses on corporate climate action before initiating the process for ISO:14000 certification of which we've received certification in countries including the United Kingdom and Germany earlier this year. The release of an internal ESG e-learning course, which we've recently rolled out to everyone in the organization, is a real leap in the right direction around educating our people on the importance of environmental and sustainability in our work. We're looking forward to enhancing this offering later this year through the launch of a dedicate micro-site for ESG activities too including further ways to get involved and increase awareness of the importance of sustainability at work.
Finally, we're delighted to have launched our first Sustainability Hackathon. Building on the e- learning course, this event will force our engineers, consultants and analysts to apply all of our understanding and awareness of sustainability whilst also using the GSF resources, like the Software Carbon Intensity (SCI) specification and the Carbon Aware SDK. It comes down to how can we leverage resources such as these both internally to make EPAM a more sustainable company and externally to help provide long-term value to our clients – and thankfully, we don't have to reinvent the wheel as we can use those open source solutions from the GSF coupled with the layering of our engineering excellence on top.
This article is licenced under Creative Commons (CC BY 4.0)