CarbonHack22 ran from October 13 to November 10th, as the first event of it's kind. The most talented developers from around the globe were engaged in building the best carbon aware application using the GSF Carbon Aware SDK. We had 51 eligible projects and a total of 395 participants. The winners were announced at the GSF Decarbonize Software event during COP27.
Why CarbonHack22?
We are on a mission to reduce carbon emissions caused by software. Carbon aware software does more when the electricity is clean and does less when the electricity is dirty. Adding carbon aware features to an application means we can eliminate part of the carbon footprint and reduce greenhouse gas emissions. With the carbon hack we are laying the foundation for continued innovation and development in the sphere of green software. We anticipate next year's hackathon to be an even larger event with more exciting solutions that help us change the world.
What is the Carbon Aware SDK?
The Carbon Aware SDK is an open source toolkit reducing the barriers for software practitioners when building carbon aware applications. The carbon aware SDK has two parts, a hosted API as well as a client library available in 40 different programming languages.
The winners and their projects
1st place - Lowcarb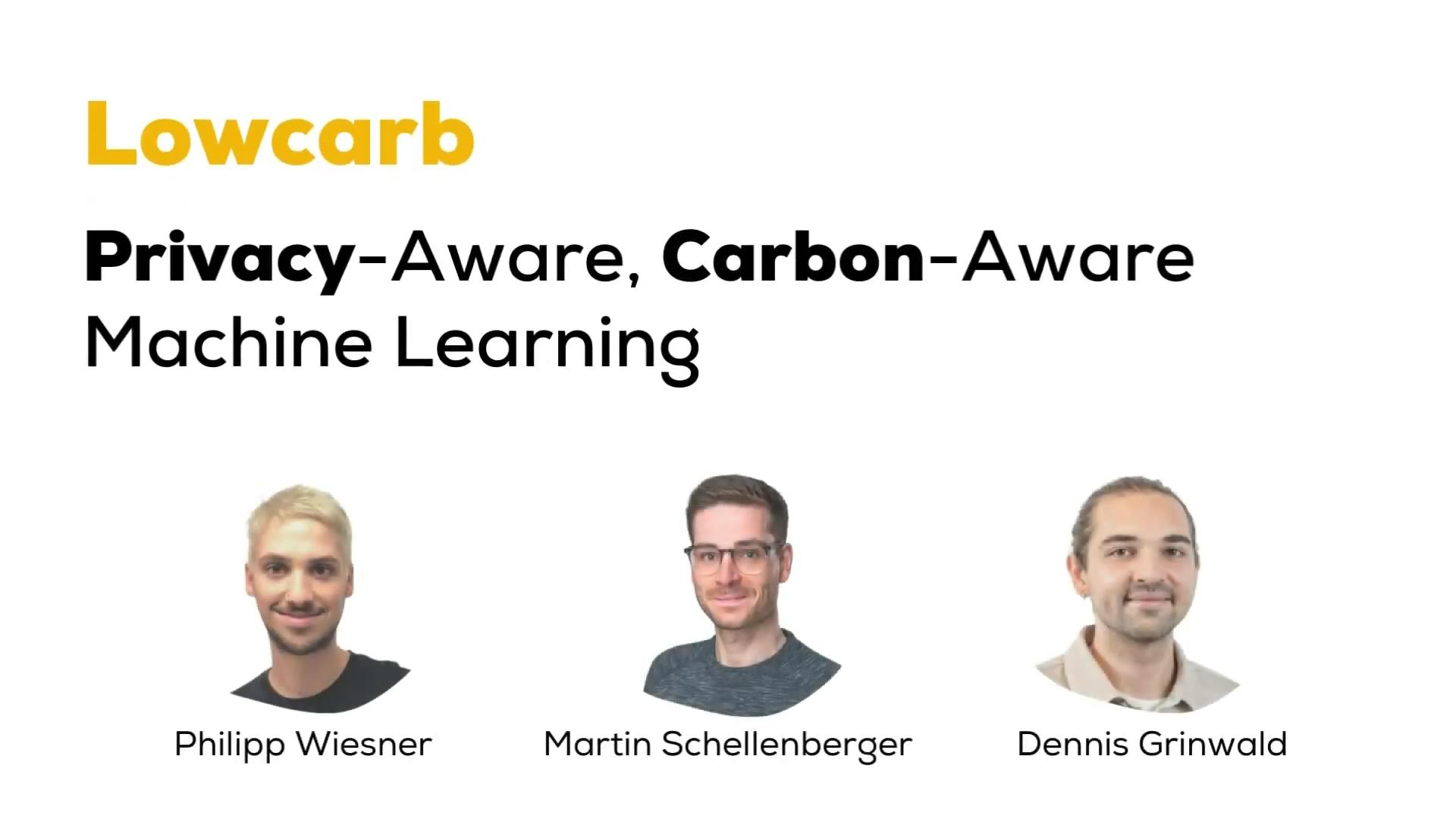 To learn more about this project, watch the YouTube video.
Lowcarb is a carbon-aware client selection strategy for Flower powered by the Carbon Aware SDK.
It enables privacy-aware and carbon-aware machine learning. 
"The solution focuses on reducing the carbon footprint of future federated learning applications. We developed a plugin, called Lowcarb, for the popular federated learning framework Flower that enables carbon-aware scheduling of training jobs on geographically distributed clients." 
The use case for Lowcarb showed carbon emissions reductions of 13% without any negative impact on the accuracy of the results.
Congratulations to the winners Philipp Wiesner, Dennis Grinwald and Martin Schellenberger!
2nd place - Carbon-Aware DNN Training with Zeus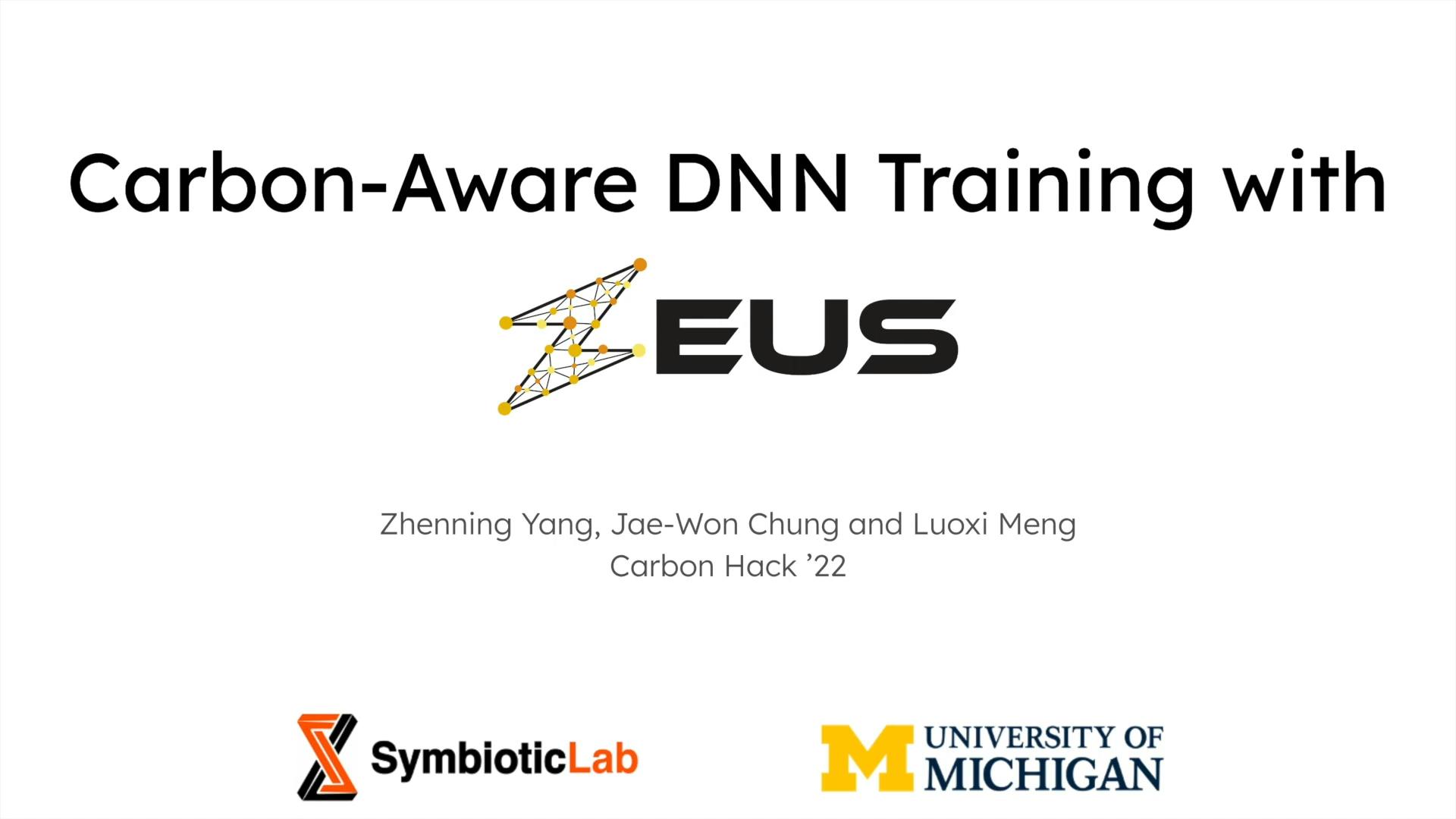 To learn more about this project, watch the YouTube video.
Zeus is an energy optimization framework for DNN training. The solution extends Zeus to be carbon-aware. It changes the power limit on the system GPU and can be easily integrated into any DNN training job. In it's use case, the application showed carbon emission reductions of 24% while decreasing the learning time by only 3%.
Congratulations to Jae-Won Chung, Zhenning Yang and Luoxi Meng.
3rd place - Circa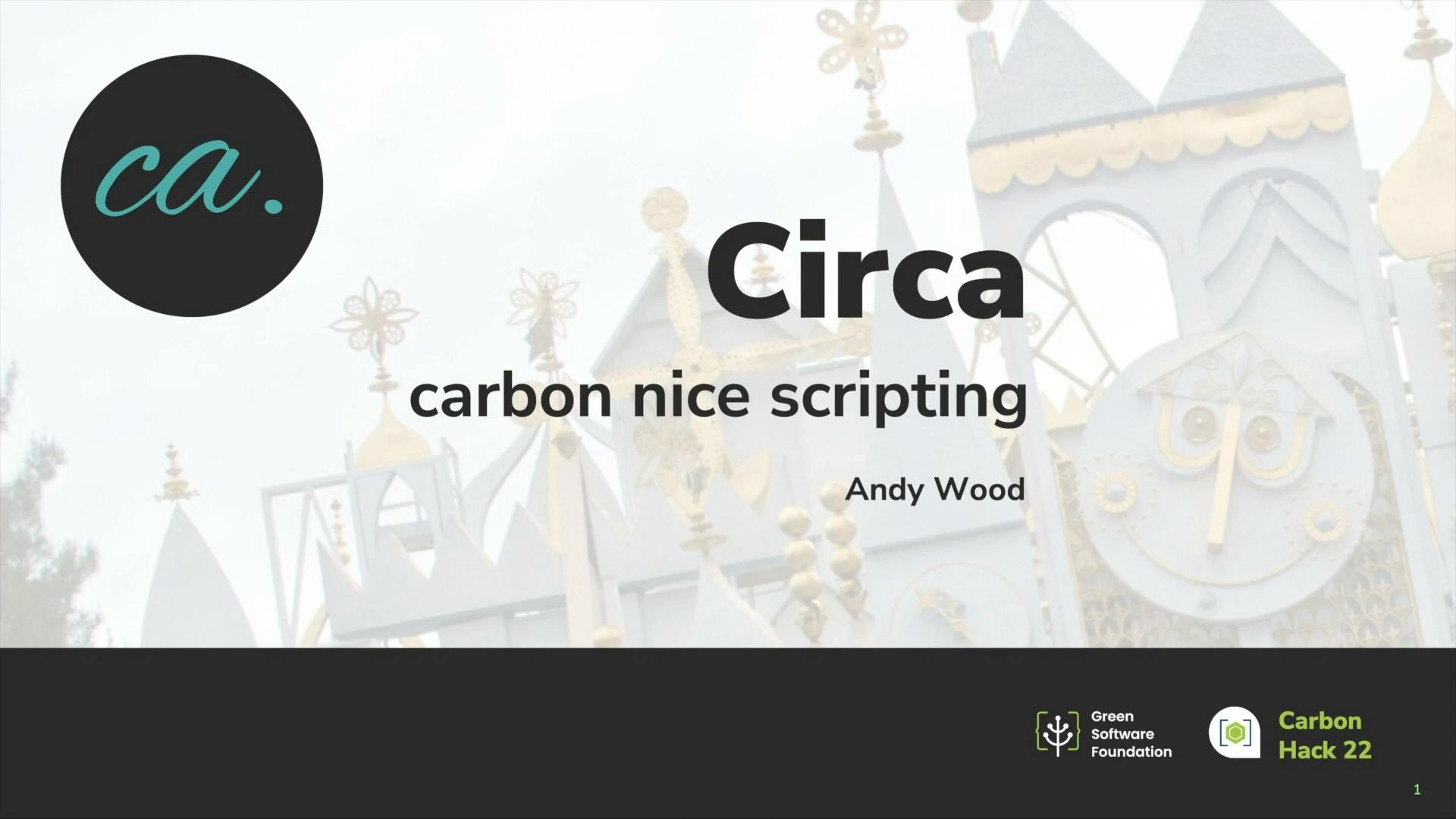 To learn more about this project, watch the YouTube video.
The solution consults the carbon aware SDK for the best time to run a program in a particular timeframe. An easy to use, nice-like command for scripting that waits for the lowest carbon-density energy in a given timeframe.
Congratulations to Andy Wood.
Category winners
Most Innovative - Sustainable UI
A framework for building carbon aware user interfaces.
Most Polished - GreenCourier 
Carbon aware server less computing
Most Insightful - Carbon Optimised Process Scheduler
A tool for time/space shifting multiple processes.
Most Actionable - HEDGE.earth
A carbon aware reverse proxy and so much more!
Making CarbonHack22 possible…
Even though prizes are not the only reason for participation, they are essential in stimulating strong submissions and set a clear signal for how much we value innovation. We immensely appreciate the contributions of our sponsors; Accenture, Avanade, Intel, Thoughtworks, Globant, Goldman Sachs, UBS, BCG and VMware, with total prize money of USD 100k. Thank you!
Can I get involved?
One of our next projects is the State of Green Software Report. Be part of the largest green software survey to ever be conducted: https://stateof.greensoftware.org
This article is licenced under Creative Commons (CC BY 4.0)